When I was growing up, you could count the number of vegetables I would eat on a single hand with fingers to spare.  So as I ponder the content for this blog entry, I realize, "I've come a long way" …
**Parental newsflash:  There is still hope for your vegetable averse kids and teens.**
… Thinking back to my prior blog entries, one might start to think that I'm a
one-trick pony
dribbling on about
CSA's
and
farmers' markets
incessantly.   I, on the other hand, propose that local and fresh defines how I roll foodie style 😉
Anyhow, enough about the past, spring is here and that has quite a few perks for foodies!  Warmer weather means new veggies are coming into season and even more can get into the ground in preparation for summer.  My CSA kicked up again, and my food journey/challenge resumes.  This year, my box is fully sourced by Mariquita Farm out of Watsonville, CA.  Here's some of the fun I've had with the produce of  spring:
Lotsa Greens.  Greens are filling my CSA box and probably my least familiar in terms of how to prepare them because I'm still working my way up to completely adoring the healthful beauties like mustard greens, collard greens, and swiss chard.  They are so good for me, though, I MUST!  I have found some fun ways to incorporate them, and the varieties are very interchangeable in recipes:
Chicken, Mustard Greens, and Gruyère Quesadillas.  God bless the April 2011 Issue of Cooking Light.  Just as mustard greens hit my CSA share, the magazine hit my mailbox.  You can vary the meat, cheese, and greens used based on what you have available.  I adore this technique for cooking quesadillas.  They come out fantastically crisp.
Hearty and Healthy 3 Bean Minestrone.  I really feel like my momma would be proud with me eating this soup … wait, I invited her over for dinner and made this soup … I can confidently say, she was!  The theme with the greens here is that they go well in so many soups if you slice them thin and throw them in!
In the spirit of using 'the whole bunch', I also read somewhere that those thick stems on swiss chard can be chopped up and used on their own.  I replaced celery stalks with them in this recipe for chicken noodle soup since I was out of celery the day I wanted to make it!
Onions.  Tender leeks and spring onions are popping up now.  I love to saute them and throw them over, under and inside everything from eggs, to soups, to stocks, to pizza, to hot sandwich toppings.
Leek Hash with Swiss Chard and Eggs.  Again Cooking Light hit a home run in the April 2011 Issue.  Taking the 'greens' concept a step further, we add in some sauteed leeks with eggs, cover them up with a lid and slowly heat them on the stovetop covered (pictured below).  Note, I didn't have the potatoes on hand when I went to make the recipe.  No matter.  It was amazing.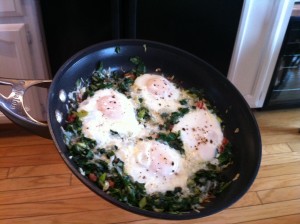 Calçot Onions.  The best part about a CSA is the mystery and adventure that rolls in for no extra charge.  Time for a story.  A couple of years ago I happened upon a Catalonian restaurant in Madrid (because my #1 food adoration is the food of Barcelona even when in Madrid).  When the restaurant door swung open, we were overwhelmed by a grilled fragrant deliciousness.  We told the waitress we wanted an order of 'whatever that smell is'.  She brought us what looked like big grilled green onions with a delicious dipping sauce.  Unfortunately, we never got an answer to exactly what we were eating.  Fast forward to spring 2011 and in the CSA newsletter, they are describing EXACTLY what we ate in Spain which I now know to be calçot onions!  They even had a recipe (see recipe for 2 calçot sauces a few paragraphs down). 

Magnífico!
Beets. OK, here's a vegetable that I couldn't have spotted in a line up 10 years ago in its "whole food" version.  While growing up in Illinois, I only knew this veggie as a shredded, dripping mess out of a can and slumped on a salad bar line up.  Now, to give fair warning, working with beets can really make a mess of things, and you'll realize how beet red earned its name.  If you are worried, disposable gloves can spare your hands and wax paper over the cutting board can save some stains.  I do without both though.  Eventually, stains fade away.   On recipes,  I love to roast these beauties and make a variety of salads:
Beet and Goat Cheese Arugula Salad.   My sister refers to this as 'rock star salad' because it is so delicious.  If you do the recipe in it's complete form, it's out of this world.   Almost all the ingredients are regulars at my farmers market.  I swap dried cherries for golden raisins at the farmers market that are so plump and juicy you will never be able to eat raisins out of that 'red box' again.   You can also make fragments of the salad any old night with whatever you happen to have on hand (ie. don't worry if you don't have every element … including the beets).
Roasted Beet and Grapefruit Salad.  Beets and citrus fruits pair so well together.  Ditto to the thyme included in this vinaigrette.  I've also done this concept over a mixed green salad to stretch the work done on the beets and supremed citrus.
Beet Salad with Tangerines.  This salad is so pretty with it's monochromatic coloring pairing golden beets and citrus.  I used oranges instead to stretch the effort on my citrus supreme again.
So welcome home to springtime, warmer weather, and the foodie bounty they provide!  And don't forget to eat your veggies!