I just returned from an amazing family vacation in Cabo San Lucas, Mexico, and my foodie muse has kicked into high gear.  Cabo is located at the southernmost tip of Baja California, and it's surrounded by the Pacific Ocean and the Sea of Cortez.   It follows that the cuisine of Baja has all the traditional ingredients that come to mind when you think of Mexican cuisine like salsas, sauces, tortillas, and peppers with a heavy accent on … mi favorito … SEAFOOD!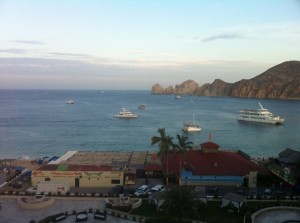 Our food journey started with freakishly delicious goodies from an unexpected spot, the pool bar!  Every day it seemed like there was a two for one deal on something … besides the drinks I mean.  We overdosed on the ceviche (fish 'cooked' in lime juice), fish tacos, and one dish that had been on our minds since last year's visit … perfectly grilled arrachera flank steak over nachos!
With restauranteurs having access to the freshest of the fresh seafood, we scored inexpensive, tasty seafood (lobster, scallops, shrimp) even off the beaten path like our meal at The Crazy Lobster.    We had more surf and turf right on the water at a Spanish themed restaurant called Olé Olé.  The prices are higher there, but, if you can foot the bill, it's worth it to enjoy the warm sea breeze with a view of the marina.  We also had bay shrimp salad in avocado halves at Olé Olé that was divine.  I made sure to get a bite of avocado from 'the bowl' with every bite of salad.  Delicioso!
Now, for my all time favorites during our Cabo 2011 visit, the taste buds say:
Second runner up:  La Coronela at the Hotel California.  On our day trip to Todos Santos, we stopped at the Hotel California for lunch and, yep, this is the spot rumored to have inspired the Eagles song.  La Coronela called their food "Mexiterrean", and it was yummy.  We enjoyed a delicious peppery bean dip to accompany our starter tortilla chips.   I had flautas with marinated pork and deliciously caramelized onions.  The ambiance of the hotel was mexi-cool.  We had a great time, but beware of massive road construction on the route from Cabo to Todos Santos if you plan to go.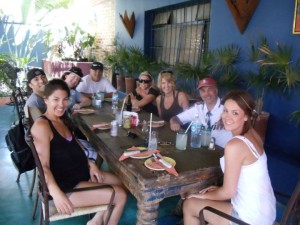 First runner up:  Mariscos Mocambo.  Seafood to die for at this restaurant!  Medium high-prices for outstanding food.  I ordered Shrimp with Ajillo Sauce which was shrimp cooked in a sauce with julienned, dried red peppers.  I also tried some amazing bacon wrapped shrimp which was the best meal of the table in my opinion.   Many more delectable delights at this dinner!
The WINNER:  The Office.  While pretty expensive for dinner, the prices are approachable for INCREDIBLE meals at breakfast and lunch.  The Office is my new favorite restaurant in Cabo.  Just outside our time share, right on the beach, The Office serves up Mexican and American dishes that are impeccably prepared.  My absolute favorite was a 'breakfast nachos with eggs' dish known as chilaquiles.  The stars of this dish were the best salsa verde (green sauce) I've ever tried paired with eggs that were inexplicably delicious … was it the freshness, perfect preparation, or something more?  Whatever 'it' was, I will be back there every chance I can! 
As you can see, Cabo San Lucas has an incredible culinary scene and, just in case you are thinking of relocating there, the job market looks like it's strong too ..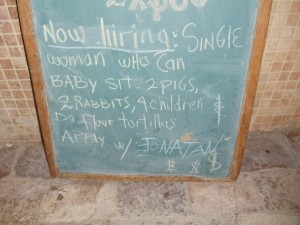 ¡Buen Provecho!