Fall is upon us and with that 'back to school' spirit in the air, I was inspired to enroll in a new cooking class series offered at Sur La Table.   The three part series was created in partnership with the great Thomas Keller based off his cookbook and restaurant, Ad Hoc, which celebrates family style cooking (and coincidentally celebrated its 5th birthday today).  While I haven't had the opportunity to eat at Ad Hoc during my travels to Napa, I have had the pleasure of dining at The French Laundry and Bouchon (a-mazing).  I knew I'd pick up some great tips even if Mr. Keller wouldn't be teaching the class himself.
When I got to class, I was pleased to learn that session one would be Spanish cuisine, Keller style.  As you may know, I have a bit of an obsession with the food of Spain, so … weee hooo.  We made the following dishes in class, and they were delicious:
Caramelized Sea Scallops with Marcona Almond Butter
Chicken Mar i Muntanya with Shrimp, Mussels, Green Beans, Piquillo Peppers, and Chorizo  (something between a paella and a risotto)
Rainbow Chard with Raisins, Pine Nuts, and Serrano Ham
Some of the tips I learned in class were the following:
The scallops were seared in clarified butter also known as Ghee.  Ghee is created when you remove milk solids from butter and you are left with buttery deliciousness with a higher smoke point (important for not burning the heck out of your butter).
I already knew that if you want a nice brown sear on your food, it shouldn't be fidgeted with in the pan.  You let it get nice and brown, then flip … just once … to the other side.  An interesting addendum to that advice was that while you are letting it sit there, it's A-OK (and delicious) if you tip the pan a bit and spoon the warm Ghee over the scallops while they were searing.  They were delicious.
Brining meats (chicken and shrimp) in a water and salt solution can yield an unbelievably tender final result.  The chicken in our paella-like dish was brined for 12 hours.  The shrimp for just 10 minutes (and without shells, only 5 minutes max).
Complex seasonings are developed with attention to detail throughout the creation of the dish.  Our chicken was brined, our shrimp was brined, then cooked in rendered chorizo fat, mussels were steamed in white wine, then dumped in the big pot with rice and other meats, along with its wine-y sauce.  (So good).
Well, I hope you find some of those tips helpful in your home cooking.  If you are inspired to take classes here are some of my ideas for where to get started.
2-3 hour classes at a local cooking shop.   I like Sur La Table for entry level classes to a particular cuisine or fun "nights out" with your girlfriend, mom, sis, or … even a date night class with your honey.
Take it a step up and go to 'weekend gourmet' classes (or more) from cooking schools or restaurants in your area.  I've seen classes range from a few hours to five days.  In NorCal, the ultimate experience, in my opinion, is the Culinary Institute of America in St. Helena.  I went to two five-day boot camp classes which were unbelievably fun (and … I've never worked so hard in my life).  I also went to a fun Spanish cooking class on Saturday with my family.  There's fun to be had in classes small and grand!
OR … go all in and take a culinary vacation!  I did this several years ago to learn about the food of the Yucatán penisula in Mexico at a school called Los Dos.  We learned about the history, culture, and people of Mexico as told through their cuisine.
For one last bit of back to school inspiration, here's a photo from my first culinary boot camp at the CIA!  It could be you!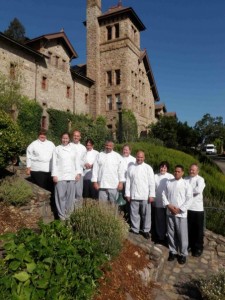 PS.  That's me, third from the right (with much shorter hair back then)!
UPDATE:   A few days later, I decided to give the scallops a go on my own.  Armed with amazing scallops from the farmers' market, I made my own clarified butter and brined the scallops in a salt water solution.  As you may know, in order to get a nice sear, you can't overcrowd the pan or whatever you are trying to brown will 'steam' which = a dull visual.  I did the scallops in two batches.  My first batch took a little too long to brown.  I realized I need to crank up the flame.  Batch #2 browned much better, and more quickly.  They were delicious …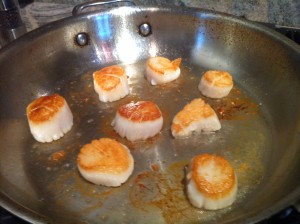 It's hard to believe how tasty something can be that basically has just four ingredients (scallops, water, salt and clarified butter).  Great ingredients + technique = wow.